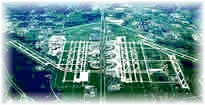 The DFW Airport Small Contractor Surety Support Program (DFW-SSP) was established to ensure that Small, Minority and Women Business Enterprises (S/M/WBEs) would be able to bid on contracting opportunities for the DFW Capital Development Program (CDP).
The five-year CDP of the Airport will invest $2.6 billion into the Airport's infrastructure and includes projects such as a new international terminal, people mover system and improvements to DFW's airfield.
SSP's staff provides firms participating with the Airport CDP Project with assistance in the following:
Bonding: Assistance in the bond package application and identification of bonding procedures and underwriters

Construction Opportunities: Identification of prime and subcontractor opportunities.

Insurance: Assisting client in obtaining the reasonable and competitive rates to meet insurance requirements.

Technical Support: Including bid package review, project management and assistance in preparing financial statements for bond applications.

Working Capital Loans: Assistance in location of financing alternatives.

Wrap-Up/Controlled Insurance Program (CIP) Administration: Assist in program set-up, program implementation, enrollment of contractors into the CIP, claims management and program closeout.
SSPC applicants are not required to pay a fee for assistance. However, the bonding companies, fund disbursement firms, and financial institutions will charge a fee for their respective services. SSPC does not share in this fee process or charge a fee to any of the Surety Support Program participants.
To get started today contact James Earl Estes (214-220-9098 or 972-586-5663) or Tameka Sadler (214-220-9098 or 972-586-5663).
For more information on doing business with the Dallas/Fort Worth International Airport, please go to our EasyLinks page.