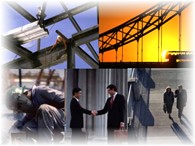 SSP Consulting, L.C. (SSP) is the preeminent Surety Support Program and Minority Business Development consulting firm in the Dallas-Ft. Worth Metroplex. We are a certified minority owned company that has been providing surety support services to public sector entities since 1992 and minority business development services since 1974.
SSP is a professional management-consulting firm that specializes in developing minority business and surety support programs for clients. We have designed an approach that helps minority, women, disadvantaged and small business enterprises (M/W/DBEs) obtain bonding, insurance and lines of credit to meet the contractual requirements on public sector projects.
SSP has extensive experience in minority business development and community outreach programs. We have helped to increase the number of (M/W/DBEs) bidding on public projects. This increased competition has resulted in savings to the public sector clients that we serve.
SSP has professional staff disciplines that includes accounting, finance, marketing, technical and construction management, insurance, bond underwriting, and surety support management.
SSP has a philosophical approach that is client oriented and practical. SSP is involved in a diverse number of projects with a client base that consists of municipalities in large urban areas, multi-million dollar private sector corporations, with a targeted emphasis on minority, women, disadvantaged and small businesses and public sector agencies.